Remote assistance – If you are having problems and don't know what else to do, we can connect to your computer over the internet and fix your issue remotely.  It's quick and convenient, and you'll be downloading again in no time.
This page will walk you through how to setup your computer for remote access so that we can help you with your computer issue.  Just follow the steps below.
1. Download the software
Use the following link if possible.
If that link doesn't work, use this one…
TeamViewer (download from TorrentRover.com)
2. Install the software
Run the installer you just downloaded.  Make sure you select Basic installation and Personal / Non-commercial use (see image below).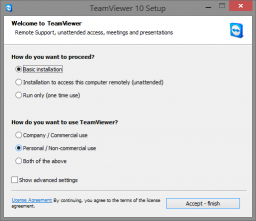 3. Open TeamViewer
Start the program you just installed (if it didn't start automatically).  When it opens, you'll see something like this…
4. Submit Your ID and Password
Now just submit the information below…