Frequently Asked Questions
This page will answer the most frequently asked questions related to TorrentRover.  If you don't see the answer you're looking for, please contact us directly.  We may even add your question to the Frequently Asked Questions.
What is TorrentRover?
TorrentRover is a Windows desktop torrent downloader and search manager.

It is a replacement for the slow, malware-infested torrent sites our there.

TorrentRover searches multiple sites and pulls the results into one sorted list.

Search results are automatically refreshed so you never have to look at stale search results.
How do I download TorrentRover?
Click the huge green download button on the home page.
What are the system requirements for TorrentRover?
Windows (XP, Vista, 7, 8, 8.1, 10, 2003, 2008 (R2), 2012 (R2), 2016)

.NET Framework version 3.5 SP1 (if you have Windows 7 or later, you have this already)
What makes TorrentRover better than just using a torrent search website?
NO Ads or malware: No annoying ads, redirects, or malware like on many torrent sites

Simple Searches: Enter your search into quick search box and press enter.

Quick Downloads: Just double click on the result you want.  Done.

Mutli-Download: Multi-select using Ctrl+Click or Shft+Click to select multiple results and press Enter.

Result Points: If you're a beginner, there's a handy points feature to help you pick the best search result.

Advanced Search: Choose category, resolution (if applicable), search sites to use, formats, etc.

DVR feature: Download daily or weekly torrents (TV shows, webisodes, sporting events, etc.)

Preferences: Almost everything can

be adjusted to your exact needs in Preferences.
What is a "Rover"?
Rover is often confused with Search.  A "Rover" is the top level element that is added when you enter a new search.  We don't call it a "search" because a Rover can contain multiple searches.  If you create a weekly rover for a TV show, for example, you may have a Rover called "TV Show" and have searches like "TV Show S01E01" and "TV Show S01E02".  See the image below…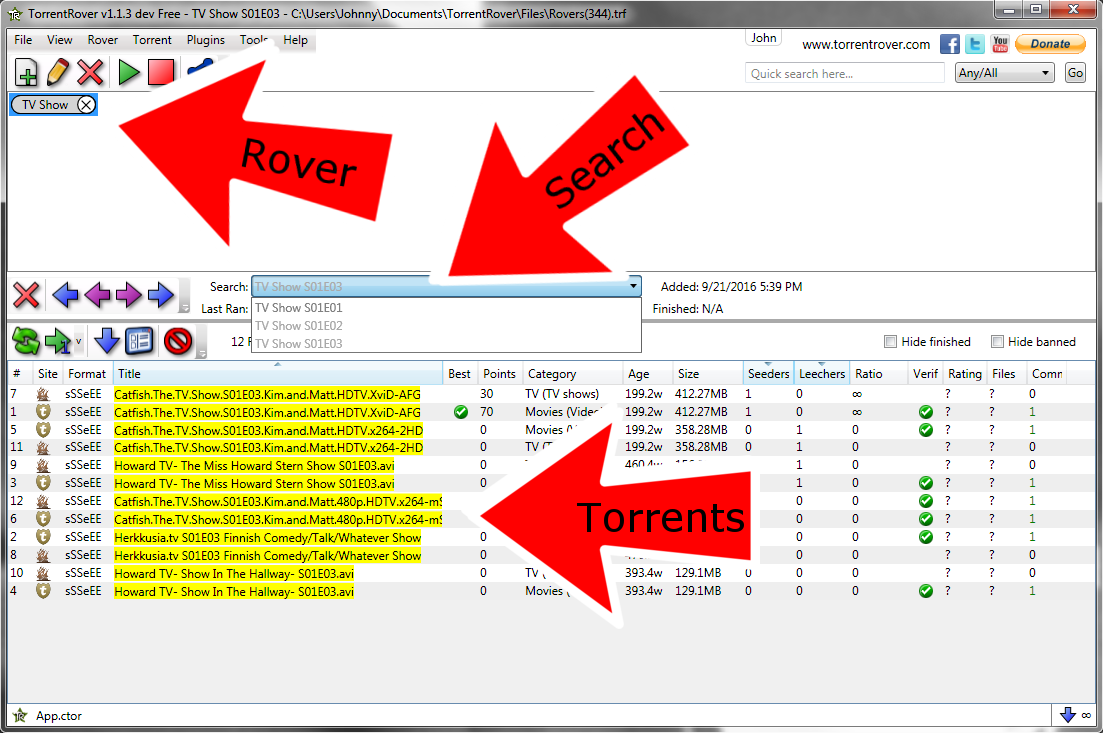 Is TorrentRover free forever?
Yes… it can be (see "How do I get unlimited downloads" below)
Is there a trial period?
Yes, for the first week and 15 downloads, the app is completely free with all the Pro features enabled.

After the trial period ends, you are in Basic mode (to get unlimited downloads and Pro features, see "How do I get unlimited downloads" below)
Are there any limitations in the Basic version?
Yes, there is a limit of 2 downloads per day (to get unlimited downloads and Pro features, see "How do I get unlimited downloads" below)
How do I get unlimited downloads (and get Pro features enabled)?
The trial period is free, with unlimited downloads and all Pro features unlocked.

After trial period, you have 2 options to unlock unlimited downloads and Pro features after Trial expires

Rewards (FREE) – Share on Facebook or Twitter and get Pro features for limited time

Repeat as often as necessary.  This way TorrentRover can effectively be FREE FOREVER.  Make sure you share through the TorrentRover popup, or it won't be registered with our servers.

Subscription – Purchase monthly, yearly, or lifetime subscription and get unlimited downloads, Pro features, and no more Upgrade pop-ups

Charged automatically every pay period (monthly, yearly, or single payment (lifetime))

Cancel anytime (no cancellation fees)

We are committed to providing a free alternative to torrent websites.

We will ALWAYS have free Rewards.  We will NEVER require a Subscription to unlock unlimited downloads or Pro features.
Reward FAQs
How long do reward effects last?
Reward effects are shown on the reward when you hover your mouse over it.  Most rewards last for several days from the time the reward is completed.
How long do rewards take to complete?
Most rewards are just sharing a simple message about TorrentRover on a social media site.  In that case, rewards take as long to complete as it takes you to sign in to your social media account and post.
Can I complete a reward more than once?
Yes!  You can complete the same reward as often as you like.
Subscription FAQs
How long does a subscription last?
Subscriptions last forever as long as you don't cancel the subscription, but subscriptions are available in monthly or yearly periods.

If you cancel, you still get the time left on your cancelled subscription.
Will I be charged automatically for each pay period?
Yes, charges will occur automatically each pay period (monthly or yearly) unless and until you cancel the subscription.
How do I cancel a subscription?
You can cancel anytime from the main menu in TorrentRover.  Once you have an active subscription, you'll see it under Tools -> Manage Subscription -> Cancel Subscription.  This area will not be visible if you do not have an active subscription.
Where is my subscription info tracked/kept?  How do I enter it into TorrentRover?
Your subscription info is kept on our servers.  TorrentRover uses unique identifiers on your computer to identify itself on the TorrentRover server.  This allows us to find and activate your subscription without the need for you to enter any kind of key.  10 seconds after you complete your subscription payment, TorrentRover "just works".  There is no need to enter anything into TorrentRover to activate your subscription.